20/20 Horsemanship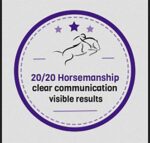 Long Business Description
20/20 is an instruction based farm.  We offer lessons in horsemanship, riding, natural horsemanship and ground work.
If you are interested in fox hunting, please contact us to see how we can help. We are right in the middle of Loudoun Hunt.
What makes us different
We offer a whole horse approach to learning how to horseback ride. All students are taught herd behavior and body language.  They also learn how to use their body language to engage with the horse. The benefits of working with the horse, in hand, on the ground, are immense.  Ground work sets you up as leader in your horse's eyes, it creates a bond that simply horseback riding alone, cannot create, and it keeps you safe while determining if your horse is mentally ready for the day's
task.
Of course, our equestrians also learn to properly 'catch' their horse, in a field or in a stall, lead correctly, groom and all aspects of tacking up.
We teach riding lessons from age 6 and up.  All levels are welcome. We also love teaching adult equestrians and specialize in those adults returning to riding lessons after a  number of years away from the sport.
20/20 Horsemanship is a riding school, owned and operated by Loretta Arey. We cater to riders who are serious about learning
1. About the horse and
2. How to communicate  with the horse and
3. Correct riding.
Send Message to listing owner